Products
Bitter Melon Extract
Bitter melon(Active Ingredient is Charantin) plays an important role to weight lose, regulating blood sugar, blood lipid, blood pressure.
Products name: Bitter Melon Extract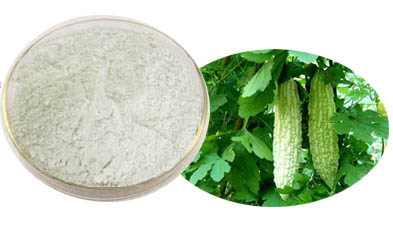 Synonyms: Momordica Charantia Extract; Bitter Gourd Extract; Balsam Pear Extract
Plant source: Momordica charantia
Active Ingredient: Charantin

Characteritics: White powder

Specifications
1> Charantin 10-25% UV
2> Extract ratio 10:1 or customized
Functions:

1)it has been used to combat cancer, asthma, various skin infections,and the common cold.

2)it is also used to fight diabetes, and as an anti-viral to HIV.
3)bitter melon extract helps increase production of beta cells by the pancreas, repair beta cells, and stimulate restoring function of pancreas
Applications: Tablets or Capsules of Pharmaceutical, functional food and Health products

Application Example


<<<<<<< Related Products >>>>>>>




Aloe Powder

Konjac Gum

Wild Yam Powder

Coix Seed Powder






Bitter Melon Tablets







Health Care: Make your own Bitter melon and apple beverage in Summer

Material: Fresh Bitter melon 0.5PC, Fresh Apple 1.0PC, Ice water 250ml, Honey as required
1> Fresh bitter melon without the pulp
2> Put bitter melon slices into salts water to soak for 10 minutes, remove part of the bitter
3> Fresh Apple(without peel) cut into small pieces
4> Put the apple pieces and bitter melon(without salts water) into food processer, add ice water to food processer and activating 30 second.
5> Mixture filter into the cup, add honey to make drinking.
Enjoy your drinking