Products
Green Tea Extract
Tea originated from China, has a history of more than 6000 years. Green tea, as the Chinese major tea, is not fermented tea keeping the fresh leaves of natural substances. Green tea contains polyphenols, catechins and chlorophyll, caffeine, amino acids, vitamins and other nutrients, has the effect of anti-aging, anti-cancer, sterilization, anti-inflammatory.
Green tea polyphenol, extracted and isolated from green tea, is a new narual high-chech product, containing plenty of catechins, flavonoids, etc. Now, tea polyphenil(TP) has been widely applied in foods, cosmetics and medicine industry. TP shows excellent antioxiadtive effect on fat and oil-containing foods. The inhibitory rates for peroxide value are 95 and 90 percent for lard and friend instant noodles, which are better than those of BHA,BHT,VE,and so on. Furthermore, TP appears synergetic effect with Vitamin E, Vitamin C and citric acid, and so on. It can also improve the stability of Vitamin A, B2 and beta-carotene in foods, inhibit the propagation of bacteria. Tea polyphenol is used as the food additive, like chewing gum, toothpaste, deodorizing and eliminating the halitosis, anticaries. It can prevent body's lipid from oxidization. Moreover, TP can stabilize the food color. TP is the health-care products. So far, some new products(like oral liquid,capsule) have been sold in market's shows a good prospect in cosmetics. The flavanols of the tea polyphenol in wavelength 200-300nm appears absorbing peak, TP is called the filter of the ultraviolet rays. TP appears on anti-inflammation and itch. Tea polyphenol supplies with acctive-OH helping to eliminate the excess free radicals. Being proved by a lost of studies and clinical practice in academic and medical field.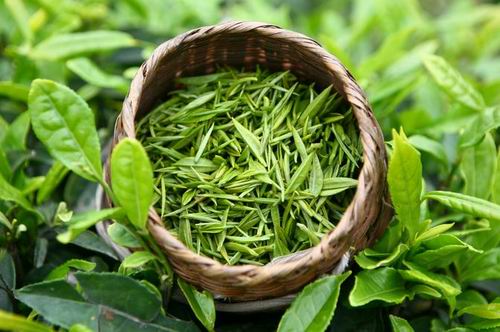 Product name: Green Tea Extract
Plant source: Fresh Leaf of Camellia Sinensis O. Ktze.
Active Ingredient: Tea Polyphenol
Characteristics: Light yellow to yellow-brown or Light green powder with bitter taste
Specifications

1> Water Soluble Tea Polyphenol Powder
Tea Polyphenols 50-30%,Catechins 40-10%, EGCG 8-20%,Caffeine 1-10%
Tea Polyphenols 60%,Catechins 50%, EGCG 25-30%,Caffeine 1-10%
Tea Polyphenols 70%,Catechins 50%, EGCG 25-30%,Caffeine 1-10%
Tea Polyphenols 80%,Catechins 55%, EGCG 35%,Caffeine 1-10%
Tea Polyphenols 90%,Catechins 60-70%, EGCG 40-45%,Caffeine 1-10%
Tea Polyphenols 95%,Catechins 70-80%, EGCG 45-50%,Caffeine 0.5-9%%
Tea Polyphenols 98%,Catechins 80-85%, EGCG 50-60%,Caffeine 0.5-1%
Tea Polyphenols 98%,Catechins 90%, EGCG 60-70%,Caffeine<0.5%
2> Lipid Soluble Tea Polyphenol
Lipid-soluble tea polyhenol 20%
Lipid-soluble tea polyhenol 30%
3> Tea Polyphenol Granule

Function and Benefits
1> To cure cardiovascular diseases. Tea polyphenol shows good effects on fibrinolysis and anti-blood agglutination, sepecially the free catechins, which possess the ability to prevent platelet from agglutination
2> To inhibit arteriosclerosis, reducing ghe possibility of hypertensive and coronary heart disease
3> Anticarcinogenic, it possesses the ability of blocking the formation of endogenous nitrosoamine, which is carcinogen
4> To strengthen the capacity of human immunity, antisenescent activity
5> To enchance the tenacity and permeating ability of blood capillary, and improve the resistance of blood vessel