Products
Dan-shen (Salvia Miltiorrhiza) Extract Powder
Danshen (Salvia miltiorrhiza) is widely used in traditional Chinese medicine (TCM), often in combination with other herbs. It grows primarily in the hilly areas in the west and southwest provinces of China, with some also produced in the southeast part of China. Remedies containing danshen are used traditionally to treat a diversity of ailments, particularly cardiovascular disorders, such as atherosclerosis or blood clotting abnormalities. The ability of danshen to improve blood circulation has not been demonstrated in high-quality human trials. Constituents of the danshen root, particularly protocatechualdehyde and 3,4-dihydroxyphenyl-lactic acid, are believed to be responsible for its vascular effects.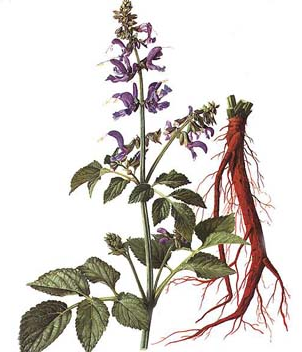 Products name: Salvia Miltiorrhiza Extract
Synonyms: Dan-shen Root Extract; Red Sage Extract
Plant source: Root of Salvia Miltiorrhiza Bge.
Active Ingredient: Cryptotanshinone, Tanshinone IIA, Salvianolic acid B
Characteristics: Brown Fine powder
Specifications
1> Cryptotanshinone 10-98% HPLC
2> Tanshinone IIA 1-98% HPLC
3> Salvianolic acid B 5-98% HPLC
4> Extract Ratio 5:1, 10:1, 20:1 or customized
Functions and Benefits
1. Danshen root extract treating coronary heart disease and circulating coronary artery, which can inhibit thrombosis disease;
2. Accelerating blood flow velocity, thereby improving microcirculation.
3. Improving cardiac muscle contraction and promoting the regeneration of it;
4. Danshen's adaptogenic funtion help balance the body, depending on the individual's needs.
Applications:
1. Applied in pharmaceutical field, Tanshinone iia is mainly used as raw material for clearing heat, anti-inflammation, detumescence and increasing coronary flow;
2. Applied in cosmetics field, it owns the effect of whitening, anti-aging, anti-wrinkle,anti-oxidant, activating skin Cells, making skin more tender and firm;
3. Applied in food additives, it owns the effect of antifatigue, anti-aging and nourishing brain.