Products
Ginseng Leaves Extract
English name: Ginseng Leaves Extract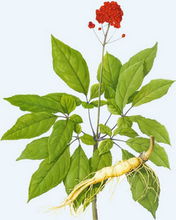 Latin name: Panax Ginseng C.A. meyer
Plant Source Stems and leaves of ginseng which belong to the Araliaceous plants.
Funtions
Studies have shown that ginseng products (mainly ginsenoside) can improve human central nervous system, livers function, lung function and circulartory system. The products are used in increasing white blood cell quality, enhancing body-immunity system function and promoting metabolism. Now, the products are widely used in anti-cancer, anti-fatigue, anti-aging and other area.
Specifications

1> Ginsenosides 10-80% UV
2> Ginsenosides 10-80% UV Ginsenosides 5-50% HPLC
Products Features:
1>> Low pesticide residue: Lowder than EP or USP standards, Procymidone 10 ppb NMT
2>> Lower contents of ash and heavy metals.