Products
Honeysuckle Flower Extract
In Traditional Chinese Medicines(TCM),honeysuckle is known as clearing heat and detoxicating medicine since ancient times, honeysuckle or honeysuckle flower extract powder is added into A(H1N1) medicines during SARS WAR 2003.

Chlorogenic acid is the most important phenolic compound in Honeysuckle flowers and has been known as an antioxidant for a long time. It is also an inhibitor of the tumor promoting activity of phorbol esters; and might therefore contribute to the prevention of Type II Diabetes Mellitus and cardiovascular disease.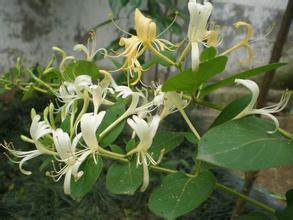 Product name: Honeysuckle Flower Extract
Synonyms: Honeysuckle Extract; Honeysuchle Flowers Extract
Plant Source: Flower of Flos Lonicera Japonica Thunb. or Flos Lonicera Confusa DC.
Active Ingredient: Chlorogenic Acid; Luteolin
CAS number: 327-97-9
Characteristics: White fine powder
Specifications
1> Chlorogenic Acid 4-98% HPLC
2> Extract ratio 10:1 / 20:1 / 30:1 or customized
Functions and Benefits
1. Can be used as anti-infectious active ingredient
2. Has wide anti-virus, anti-bacteria effects
4. Has obvious anti-infectious effects
3. Has relatively lower toxicity and side-effects
5. Due to its obvious anti-infectious effects, it not only can be used in pharmaceutical field but also can be used widely in many other fields like food, feed additives and cosmetics.
Applications:
1. Food active ingredient;
2. Pharmaceutical stuff;
3. Cosmetics;
4. Healthy beverage industry